Get garage gifts for dad, who designed his heaven in the workshop adjacent to the house.
Well! Finding something for fathers who seldom buy for themselves is tricky because you hardly know their choices and desires.
That's why we have gathered all the mandatory gifts for garage lover dads.
These garage gifts for dads are going to be some outstanding options for you to choose for his birthday or for Father's day.
So, here you go!
Best Garage Gifts For Dad
Buying a garage gift for an impossible man who treats his tools like precious gems and never misses a day to keep the garage/workshops clean is not tiring anymore.
Never feel clueless when surprising your father with garage warming gifts since we have options shared in this blog.
One good option is this tool organizer rack, which gets attached to the wall magically and holds hammer, ranch, or other tools powerfully.
He is all girding up to get some car tire work done but may be afraid of scratching his knees. How can you help?
Get these gel knee pads and make him do the loveliest job without tension about injuries.
Pro-Tip: You can also gift it to the car-lover guy by adding it to the things you need for the car.
If your dad likes working on his car or other projects in the garage, he will love this 360-rotating rechargeable magnetic LED torch.
This torch has a powerful LED light that can illuminate any dark area. It also has a magnetic base that can stick to any metal surface, such as the car hood, the toolbox, or the wall.
The torch can rotate 360 degrees, allowing your dad to adjust the angle of the light as he needs. The torch is rechargeable by USB cable, so your dad does not have to worry about batteries running out.
Messy workshops can put people in doubt about your organized nature. Hence, when selecting garage storage gifts for dad, put this along with other tools or gears.
It will store all the necessary batteries precisely.
Well, in winter, all chilled vibes and cold breeze enter your body and numbs it up, especially when you grow old. Is it the same case with your dad too?
Don't worry! Gift him this tech-heated vest and make his outdoor work a breeze even in the snow.
For instance, your dad is stepping into the basement garage to find some home improvement gear, and that too, in the middle of the night, this LED glove will prove to be a blessing in disguise in that case.
We all know appreciation is important, so why not gift this comfortable hand glove as one of the best gifts for electricians who solve electricity issues even on holidays.
Another useful garage gift idea for your dad's garage is this collapsible lightweight stool
Featuring an adjustable height, this stool folds up and becomes a minimal size so that it can be kept with him and used anywhere in the garage or garden.
What else can excite them more than gifts for their garage? Of course, nothing.
Therefore, we would suggest you purchase this LED lamp that can easily be hung with the garage ceiling and provide ample light to every corner of the room.
If we sum up the need for these gloves in all seasons, we would understand that the intense tasks in the garage mean dirty, tan, or cold hands, which can, of course, impact efficiency.
Gift these gloves to your father so he can do the job quickly and without any worry.
If your dad lives in a snowy or icy area, he will appreciate this no-bump anti-skid car wheel chain.
This chain wraps around the car wheel and provides extra grip and safety on slippery roads. It is easy to install and remove and does not cause any damage or noise to the wheel or the road.
It is made of high-quality steel and rubber that can endure low temperatures and high pressure. It is compatible with most car models and sizes.
A car's shine can be dulled by water's stain when it is washed with water.
Thanks to this ultra-absorbent towel, you won't have to wait long to dry your dad's car. The towel is highly absorbent, soaking up water quickly and making the car cleaner.
It can also clean the garage's window glasses, table, etc.
Garage Accessories For Dad
If your dad is like most dads, he loves spending time in the garage.
Whether tinkering on a car or just working on a project, the garage is his happy place.
Check out these great accessories gifts that will make his garage work even more fun!
For your dad's garage, it's important to buy a cool garage accessory to clean the stains from the front.
He can easily remove all the hard-to-reach areas of the windshield with this microfiber pivoting cleaning head (180°) and long handle.
There is something missing in your dad's garage, yes that exact amount of light that makes working there enjoyable.
Let your father know how much you appreciate him by getting him this Father's Day bulb adapter lamp to hang in his garage. This adapter supports up to 25W per socket.
He will be so surprised and grateful for your gift and will give you a big hug as a thank you.
Finding more wonderful stuff for the dad's garage?
A new tool in his repair arsenal will be this adjustable aluminum wrench.
The turbine slider provides more grip and torque than elementary wrenches, and he can use it either way – with and without the toothed side.
What is the status of the switch in your dad's garage? Is there only one available? An extender rack for multi-plug outlets could be just what your father needs.
Powered by three times as much power, this convenient little gadget allows you to charge eight devices at once.
A quick solution to repair a tire! Save your dad from a costly and time-consuming trip to the workshop and fix his car's tire with a rubber nail.
No air leaks occur due to the nail's perfect adhesion to the tire surface, and this nail kit is ideal for all types of vehicles and tires.
Dad's garages get dirty so quickly!
Clean out the garage dust and garbage with this magical 180-degree rotation. Its elastic rubber blade wipes away liquids of all types from the floor.
The sponge's well-designed edges easily clean his garage's narrow corners, and the shaft is securely attached to ensure it won't fall.
If there're lots of compartments in the house's garage and your father is clueless about how to keep them assembled, get this dividers pack which will keep all the essential tools diligently and secure less space.
Indeed, it is one of the helpful man garage must haves.
When scrolling through things to buy for a car guy, garage gifts like this tiny paste do wonders.
Interestingly, this paste removes scratch marks like they weren't present before. Isn't it magical? Get it for father and let him tap your shoulder for showing such a nice gesture.
Using this all-in-one magic grip tool, your dad will have an easier time fixing things around the garage. This garage tool can replace a whole set of wrenches, pliers, sockets, and more.
It can adjust to any shape and size of nuts, bolts, screws, hooks, and pipes. It can also easily grip, twist, turn, tighten, or loosen anything.
It is compact and lightweight, making it easy to carry and store.
Get this innovative product, the advanced level of timepiece for your daddy who wants to keep track of time while doing a mandatory job in the workshop.
Amazingly, this clock is not just a time-telling device but a fan too. Isn't it jaw-dropping? Of course, it is.
Imagine bolts, nuts, or small tools falling off his pocket after a few seconds, and then he yells at you for not helping him so profoundly.
We have something to save him from all these reprimands! Phew!
But what? As a garage accessory for dad, this wristband will proficiently hold all his tiny gears or bolts. So, gift him this and drift your papa away from the worries!
The sound of drills can disturb the sleeping lot of the house. Therefore, daddies usually do woodwork in their workshops.
For such fathers, who is home mechanic, an engineer, woodworkers, in short, embrace qualities of handypersons, these hinge drill bits can be a perfect present.
Related: Cool Presents For Engineers
Never miss out on gadgets that are both feasible for vehicles and workshops.
For example, this vacuum cleaner can suck in any dirt particle found in both mentioned places diligently and works well for a long.
Fathers Day Garage Gifts For Dad
Celebrating Father's Day with the loveliest "popsiii" of the world? Grab all of these presents for him:
Dads don't like making coffee and ask you to do the honors most of the time. Right? How can you save yourself from this hectic job that needs to be done after every few hours?
Simple, get this self-stirring mug and let it make the coffee on its own.
Your dad is always busy in the garage, working on his car or other projects. He will appreciate this "I'll be in the garage" shirt for Father's day.
This t-shirt is soft and breathable your dad will enjoy wearing it. It comes in various colors and sizes to suit your dad's style and preference.
Flint fire starter, not just by the name but a tiny magical gadget for daddies usually found in the garage in the middle of the night.
Now, he can complete his pending tasks without getting frightened. It is a keychain and a lighter too.
A person who can do anything in the garage is a real expert at home because he does any home improvement task within a snap of a finger.
Gift your daddy this key-shaped multipurpose tool to increase his efficiency and woo him to do something too.
Tip: Don't let your mom know the deal decided between you both :p
This wall mount is a present for an organized man who never misses a chance to keep his garage clean and impress everyone with his systematized nature.
He can hang his helmet, other hanging tools, or gadgets too.
Your dad is the superhero who can handle even you.
Ok ok…Don't chuckle! 😆
The t-shirt quotes a fun sentence, so your dad will look super cool fixing stuff in the garage. And don't worry about quality, and it's made of super thick and breathable cotton.
It doesn't matter whether we're talking about a backyard or a garage; looks are still important.
Buy this bombastic sticker to give your dad's garage a stylish look since he's very concerned about it.
This adhesive sticker looks so elegant and is available in different colors.
Your dad is the best car mechanic in town and deserves this retro car mechanic garage shirt for dad. This shirt has a cool design of a car mechanic fixing a vintage car in his garage.
It has a worn-out look that gives it a retro vibe and character. The shirt is made of high-quality cotton that is soft and cozy. It is available in different colors and sizes to fit your dad's taste and size.
What do I buy for my dad for DIY?
This drill flip drive set will help him do home improvement errands like fixing a door or attaching bolts with a cabinet feasibly; indeed, the simplest thing to do.
The garage is a workshop for fathers, so they do every single mechanical work there.
Note: Such drill drive sets are perfect presents for mechanics too.
This washer is another helpful thing you must add to the garage gifts for dad.
Interestingly, when connected with the pipe, this attachment provides tremendous pressure that cleans the area efficiently at once.
Keep your large or small gears and gadgets like screw gauge, measurement tapes, handy machines in this canvas pouch and hang it in the garage corner.
Excitingly, this is how daddies can use your gifted bag.
Fathers who work alone without any other person's involvement would love this magical tape that will let them measure the whole woodblock, marble piece, stab even more conveniently than before.
Your dad is indeed a superhero for whom a garage is a place where he loves being creative, playing with machines, and all that.
Besides, he may need to be remembered that he is needed more in the home, so while choosing fathers day gifts for garage lover papa, get this keychain.
Related: Funny Father's Day Presents For Him
Cool Garage Gifts For Dad Who Wants Nothing
Choosing gifts for men who need nothing requires a lot of brainstorming, but now you can trust our selection and make a mark:
How clumsy it looks when small stuff is all messed up in the garage and especially when your father loves his workshop a lot. How can you help?
Get garage organization gifts for him like this organizer, which gets attached to the outlet so he can easily put small gears or essentials.
How cool your papa can look while wearing this beanie hat! But, this beanie hat would be more like a savior when
he is working on something undercarriage
or keenly indulged in some repairing chore and forgot about the countertops presence right above the head.
Your father must have all the gadgets or gears related to the car in his garage. For instance, this liquid transfer feasibly fills up the car tanks.
So, get your hands on this product when selecting workshop gifts for dad.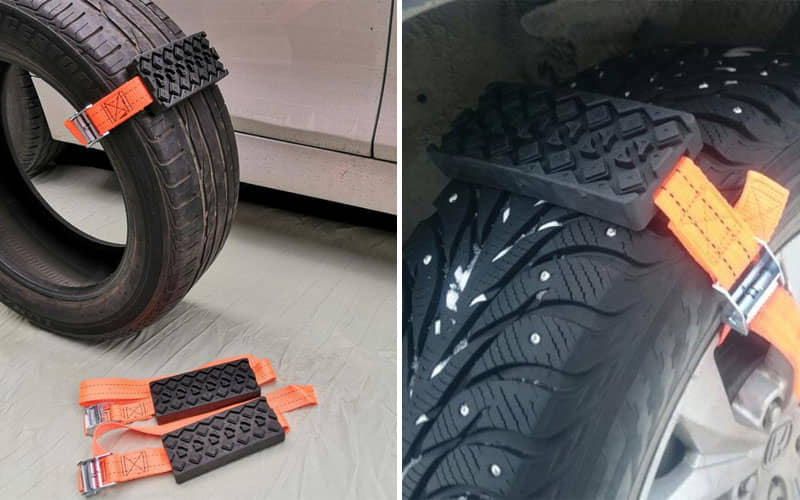 This tire block is a smart gift for any dad on Father's Day who wants to drive smoothly and securely in winter. This will help your dad escape trouble with his car in any weather.
They are simple to use and store and can adapt to most car models. They are also sturdy and recyclable and can resist extreme weather conditions.
This set contains two plastic blocks that can be secured to the tires to generate traction and balance.
Another important gift for your father is this neck fan.
However, it is not directly related to garage usage. But, with this, your dad can do lots of complicated chores in the workshop without a single drop of sweat.
So, eventually, it helps in his very own garage; get it and impress him.
Even the sturdy hold of your dad's hand on rivet guns can go wrong if the attachment is inappropriate. Avoid such incidents by gifting this durable and reliable drill attachment.
Let him deal with wood, drilling, or bolts like an expert.
Inexpensive Garage Gifts For Men
Let's dive into the cheap garage gifts for dad!
Yes, your father will appreciate these.
Nothing is more frustrating than dropping a screw or a nail in the garage and being unable to find it. That's why your dad needs this flexible magnetic garage repair tool.
This amazing gadget has a powerful magnet that can attract and retrieve any metal object from any angle. It has a flexible shaft can bend and twist to fit any space.
It can also help your dad hold tools or parts while he works on his car or other projects. This tool will save your dad time and hassle in the garage.
The eraser is a tangible pro pen that eliminates the scratch marks that incidentally appear on the car's surface. Undoubtedly, you keep all problem-solving products in the workshop.
So, add it to the men's garage gifts and make their day.
They need wire connectors every now and then, and it is imperative to keep them in a well-organized form.
In that case, this kit comes in handy as it will secure all the seal wire connectors, so fathers busy in the garage can use it in the best possible manner.
A mini fridge or cooler is great to impress your Father's Day and allow him to cool down without going inside the house.
Stock it up with his favorites for bonus points. A USB cable connects the USB fridge to the electric charger, so batteries are unnecessary.
Your father has to get up frequently in the garage to collect things.
The best way to solve this problem is to give this grabber stick to your father as a garage gift. He will appreciate it and be much happier knowing you care for him.
With its rotating and locking jaw, he can pick up even the tiniest of items, and the soft rubber makes it easy to pick up objects.
Suppose your daddy has asked you to hand him over gear, but the problem is he has plenty of tools and gears placed carelessly in the garage. What would you do?
Of course, the confusion on your face can annoy the great daddy.
Thereby we have these sticky pads that will sturdily hold the tools for a long time.
Your father is like the backbone of your family, and his garage is like a temple to him. Hence, you can't stop him from working there. But you can help him stay safe.
Add this shoe grip in the gifts for garage-lover and let them do chores with peace of mind and a harmless walk.
This is not just an ordinary pen but helps a person inscribe name, marks, or design on stuff. So, for instance, your dad can use it to name his essential tools and devices.
Don't forget that it is used to engrave any print on leather, glass, or car.
How fancy can his car look after attaching this wheel lights kit! No? Definitely, it will.
Grab this amazing kit for dad's car, decorate his vehicle's wheels, and keep them glowing while parked in the garage to astonish your father.
It is also among the best garage gifts for husbands who love their cars.
Related: Happening Gifts For RV Owners
Whether it is about repairing leather jackets, belts, or sofas, every such stuff is done in the garage by a dad who feels pretty creative in their workshops.
More, this plier tool can help them with the chore. So, gift it to your father and let him prove himself super professional.
When we talk about the tools one may need at home, this snowflake keychain tops the list. The handy pocket-friendly keychain does many difficult jobs like fixing a bolt or opening stuff as an absolute genius.
Bottom Line:
Yes, now you would also agree that Inspire Uplift offers the best garage gifts for dads, making it the perfect marketplace for everyone.
Wait a minute! Also, explore this gift list for fathers to present on any special occasion.
Happy shopping.