It's not easy to find a gift for someone who loves cats🐱and that too on an affordable budget.
But we have cracked the code and have come up with a list of inexpensive gift ideas for cat lovers that will make you their favorite buddy. 😻
Ready?
Get! Set! Meow! 🚀
Best Inexpensive Gifts For Cat Lovers
Below are some of the top picks of the best inexpensive gifts for cat lovers on holidays, Christmas, birthdays, or other occasions!
Look at this cute calming buddha cat, and this gives you the feeling of calmness and relaxation!
Any cat lover who loves mindfulness will love this best inexpensive gift to receive ever.
This meditating cat figurine can also be used as decoration in the giftee's home.
Have you noticed that your bestie is worried because her cat is alone at home?
Now it is time to show care for your friend's furry cat and gift her this cat carrier pouch bag. Cats feel comfortable inside this bag because of its soft material.
Grooming cats is a chore that is annoying for the pet and tiring for the owner.
If you are looking for economical gifts for cat lovers, get this cat self-grooming brush for your cat buddy to make this hassling chore a breeze. This inexpensive gift for cat lovers lets the cat groom herself with extreme ease.
It's time your best friend lets go of the keychain with her ex's initials and get a hold of this knitted car keychain. It stores not just car keys but the house, drawer, and office keys.
It is an ideal symbol representing undying love for cats and will surely make him forget the haunted memories of his ex.
Kids are best friends with cats; to maximize this fondness, surprise them with this color-changing cat night light lamp.
This low-cost gift for cat lovers will turn boring nights into cute and colorful ones.
An ideal product to let go of the fear of sleeping alone
Give them as a gift on their birthdays, Christmas, or thanksgiving, and add style to their room with this cool bedroom light.
Jewelry is an asset that stays with a person forever. So if you want to surprise your cat-loving friend with a forever-lasting jewelry item, this cat & moon pendant necklace will be an elegant choice.
It is an exquisite necklace to show your neckbone beauty perfectly, and buying this inexpensive gift for cat lovers won't take a toll on your pocket.
So your cat lover has hosted a party at her house?
Well, you should essentially have an affordable gift for cat lovers on your checklist before attending it.
Get this cat paw cup and make it a part of their daily-use crockery. From coffee to tea and milk, they'll be pawing every drink in this cat-inspired cup
Do you want to enjoy coffee while working, but the dirty base of the cup will leave a stain on your workstation?
Avoid this by using this cat-shaped tea coaster. Serve your guests with tea on this coaster to let them know about your fondness for felines. In addition, it will protect you from the tiring labor of cleaning stubborn stains from the table.
This fun, oversized kitty coffee mug will show love to your furry fluff ball pet.
Take your never-ending love for your cat where ever you go. Sip your morning coffee in this cup while your furry friend sits on your lap.
Any guest will know that you share a special bond with your feline
These slippers will surely make your cat-loving friend know that you value their relationship with cats.
These are comfy, trendy, relaxing, and give a purrfect warm feeling. So, waste no moment and add this to your cart. It can be an ideal gift for the boyfriend's mom, who loves being around cats.
End lonely and scary nights for kids by surprising them with this cuddle buddy cat pillow. They can hug it while sleeping to shun the night ghosts and monsters.
It is soft to hug and cute to look at. Your kids will be friends with this pillow just like they are friends with your cat pet.
If you share an unbreakable bond with your cat and want to flaunt it to everyone, grace your neck with this pet paw print necklace.
It is delicate yet attractive and can be paired with many dresses you plan to wear. In addition, you won't be spending a fortune on this necklace since it is highly affordable.
Going to a Halloween party and don't want to leave your cat behind?
Make your furry friend wear these black cat bat wings and let her be dressed in the Halloween vibe. Your cat will be a perfect partner to take along to the party.
This will surely show off your bonding with your cat and let others know that you don't leave her behind.
Inexpensive gift for cat lovers under 15$
Want to find some extremely low-priced cat-related presents?
Unlock these cat-lover presents under $15 from sassy cat Airpod holders to cute claw socks.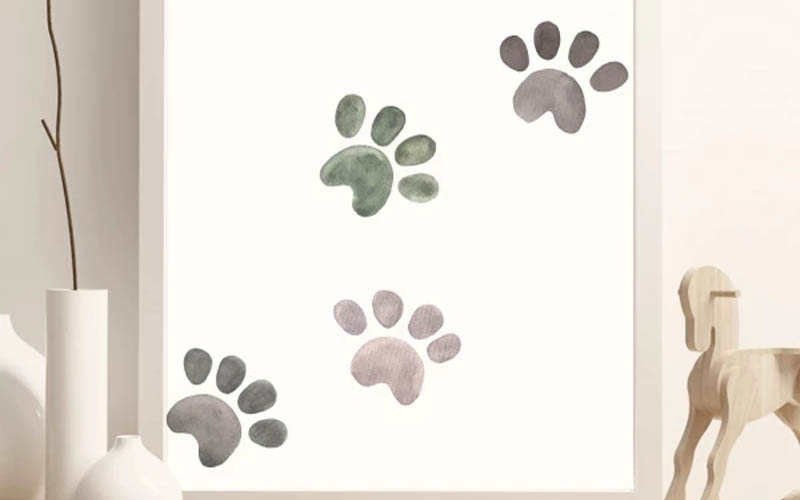 Who wouldn't love these adorable prints of different colors of cat paws? This paw print clipart is the perfect inexpensive gift for any cat lover!
And at this cheap price, you can buy them for all your friends who love cats, too!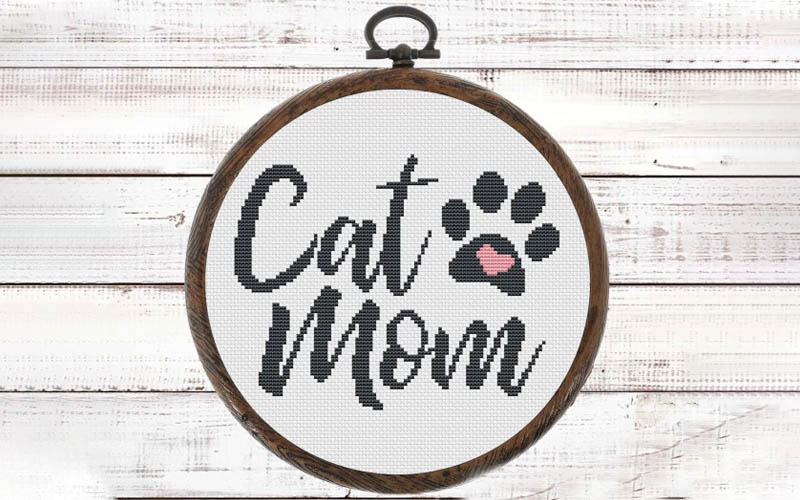 If your mom is a cat lover and loves to do cross stitching, why not reward her with this cat mom cross stitch pattern?
It's a challenging project that will keep her busy for dayss, but the result is worth it!
She can hang the finished product in a frame on the wall or give it as a gift to another cat lover.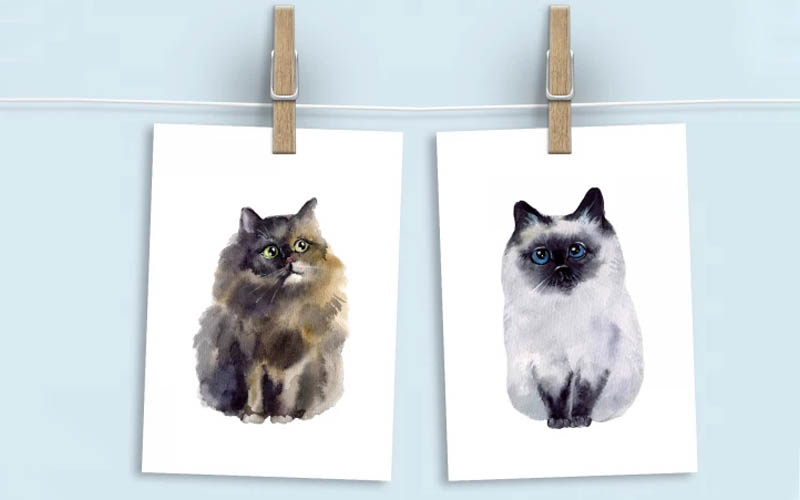 If you're searching for an interesting and unique gift for a cat lover, look no further.
This 8-cat clipart is designed for anyone who loves these adorable creatures. They can be printed on high-quality paper, making this print a great addition to any home décor.
Give a unique and inexpensive gift to your family and friends that lets them know you care.
If you don't have the budget to gift your friend the latest version of AirPods, we have you covered. Get this Funny, sassy dancing cat Airpod holder to make him fall in love with his old Airpods all over again.
Place it on your side table and let the it rest on the shoulder of this cute cat.
Want to give a burst of laughter to your near and dear ones?
Surprise them with these realistic comfy animal paw socks. These will make the wearer's legs look just like the cat's legs and will show others how much they are fond of their pet.
Jewelry need not be expensive, and this cute kitty cat earring fits the description of minimalistic and inexpensive gifts for cat lovers perfectly.
This kitty earring will show the wearer's love for her pet cat like nothing else. This inexpensive gift for cat lovers is an exquisite yet unusual take on jewelry fashion.
You can't carry your pet wherever you go. But you can wear these comfy and cute fuzzy cat claw socks wherever you go. These will remind you of your love for felines while keeping you warm and relaxed in chilly winters.
This inexpensive gift for cat lovers will allow your cat to see a familiar leg, and she'll be more friendly.
Inexpensive T-shirt Gift for Cat lovers
Why not consider a T-shirt with a cute cat design and quote?
It's a great way to show your feline friend some love without breaking the bank. So go ahead and buy some T-shirts for all of the cat lovers in your life!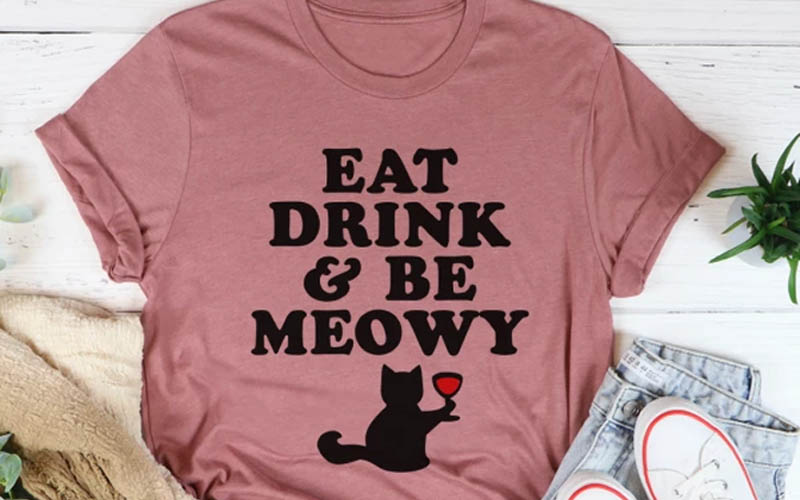 "Eat Drink and Be Meowy🍷" This t-shirt will reflect the love for cats and is designed for cat lovers who want to show the world their love for these amazing creatures.
It's also comfortable and made of high-quality material, so they'll feel great wearing it all day long.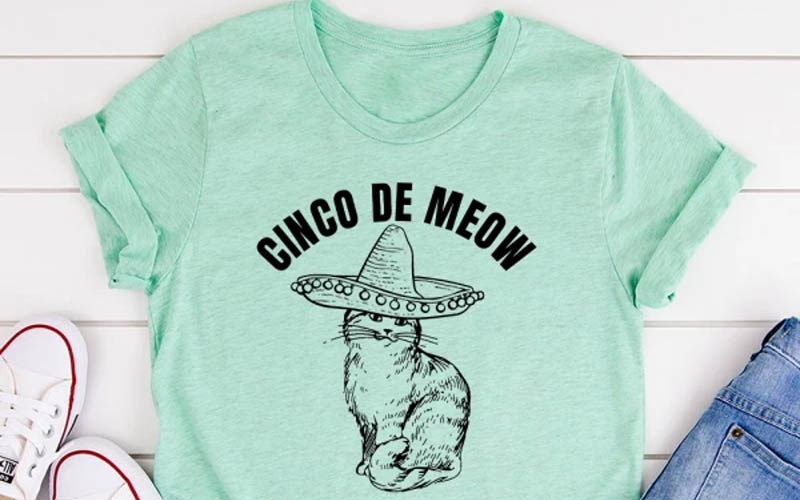 Who wouldn't love spending time with their furry friend wearing this tee?
Stretchy and soft, it feels great when worn. Women and men will both find it comfortable and flattering.
And it's a great conversation starter, too!
Christmas is incomplete without donning an attire that suits the occasion and brings out the festivity. So, surprise a cat-loving dear one with this Merry Catmas T-shirt that will resonate with his love for felines like nothing else.
It is comfy, relaxing, and breezy to wear and can be an excellent Christmas gift for mom.
Let this shirt express your love for cats by wearing this "Here For The Cat's Tee." It is comfy and the best attire for summer.
Surprise your cat buddies with this t-shirt and see them wear it on picnics in the park, beach, and everywhere else.
Like the Oscars, Grammys, or Golden Globe Awards praise professionals linked with the TV and Film industry, this Best Cat Mom Ever t-shirt is the best thing to praise any cat mom you know.
It is one of the cutest summer fashion trends that checks all the right boxes you look for in a t-shirt gift.
Finishing lines!
Gifts don't always need to be expensive and grandeur. It's the thought and emotion that counts more. 💖
To surprise your friends and family members who adore cats, choose from the aforementioned inexpensive gifts for cat lovers and make their day special.